This past summer I went to Wisconsin Dells (Waterpark Capitol of the World for those of you who didn't know

)
There's lots to do in The Dells. Of course water parks, Camping, Museums, Horseback riding, Theme parks, tours of the area, and Shopping. LOTS of it.
There were like 10 stores that were just strictly T-shirts and in every one you'd see these :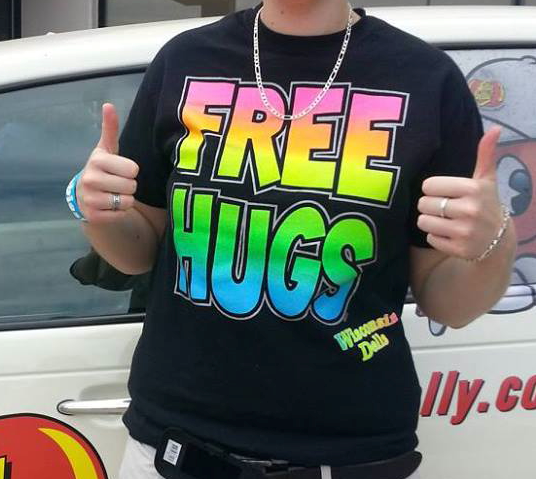 (This is my sister's Girlfriend, she gave me permission to use her pic)
They were like 10 dollars, you could get it in various color shirts, various fonts, various text colors, I mean really the options were endless.
I see these shirts everywhere here, especially when walking around downtown in The Dells. It's awesome! But I never see anyone give out hugs.

So out of curiosity, when you see a Free Hugs shirt, regardless of were it's from - Sick Puppies official or something like shown above.
Do you give them a hug or do you feel awkward and just smile and move on?
When you wear Your Free Hugs shirt, do you shy away from people who come to hug you or do you go around hugging people?

*edit* I suppose it'd help if I put my answer in here lol.
When I was in The Dells I didn't go around hugging everyone I saw with the shirt on. It probably would of taken me a few hours. I didn't even give a hug out at all. But I have done it in other places upon seeing a shirt. Once a girl even looked at me and said "I never thought I'd hug a stranger just because of a shirt" and I thought it was kind of silly.



When I wear mine, I've only given a hug to a teenager with autism that walked up to me and demanded not one, but four hugs. But that's the only time anyone has ever actually walked up to me and done it =/