Pet Photo Caption Contest
Contest start date: 11/09/13
Contest end date: 11/17/13
Rules/Guidelines
Do you have any cute photos of your pet? We want to see them! Choose your favorite photo of your pet and add a caption related to Sick Puppies.
Examples: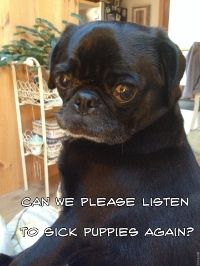 Method of Submission
Submit your entries to:
spwc.contest.team@gmail.com
and include your name, date of birth (to assure you are over 13), and mailing address.
No inappropriate or offensive images allowed.
Prize:
The winner will be announced in December webcast and will be announced in this thread, posted on facebook, and emailed. Keep in mind, you will need to include your mailing address to receive your prize.

The winner will be decided by SPWC Administrators and will be mailed an autographed Sick Puppies prize pack including a signed copy of Polar Opposite and a There's No Going Back single.
Sick Puppies, their management and World Crew have the rights to all materials to use on websites and publications without any further credit or payment promised.